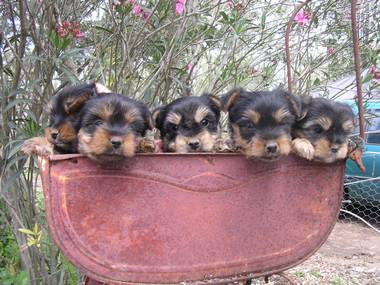 *********************************************************
OUR SILKY'S ARE MORE THAN A PRETTY FACE, MORE THAN A MERE LAP DOG!
THEY FORGOT TO TELL OUR GUYS THAT THEY ARE LITTLE DOGS!
NOT EVER BEING ONE FOR "LITTLE" DOGS I CAVED TO THE PRESSURES FROM THE KIDS TO GET A "RUBY" DOG. WE HAD CARED FOR A FRIEND'S SILKY AND MY KIDS PESTERED FOR 6MTHS AFTER THAT FOR US TO GET ONE THE SAME. SHE WAS A VERY SWEET DOG BUT REALLY DIDN'T KNOW WHAT I WAS GOING TO DO WITH ONE - I'D BE TRIPPING OVER THIS LITTLE DOG ALL THE TIME!
ANYWAY I STARTED LOOKING AROUND TO SEE WHAT WAS AVAILABLE. TO OUR GOOD FORTUNE I CAME ACROSS A BREEDER THAT LIVED NOT TOO FAR FROM US AND HER DOGS WERE ABSOLUTELY GORGEOUS! WE WELCOMED INTO OUR HOME A PRETTY LITTLE GIRL THAT THE KIDS NAMED "ANGEL". SHE WAS FAR FROM AN ANGEL - FULL OF LIFE, BOSSY, BOISTEROUS AND SOON CEMENTED HERSELF AND THE SILKY BREED INTO OUR LIVES FOREVER. SHE SHOWED US THE TRUE TERRIER SPIRIT THAT ALL SILKY'S SHOULD POSSESS. SHE HAS NEVER BEEN FAZED BY ANYTHING IN HER LIFE AND TOOK TO OUR BIG DOGS IMMEDIATELY, HER BEST FRIEND BEING A LARGE SOLID BLACK GERMAN SHEPHERD. HEADS WOULD TURN WHEN WE STOOD OUTSIDE THE RING WITH CYNDY ON ONE SIDE AND ANGEL ON THE OTHER, THEN OF COURSE THEY WOULD COMMENCE THEIR WRESTLING MATCH FOR ALL TO SEE!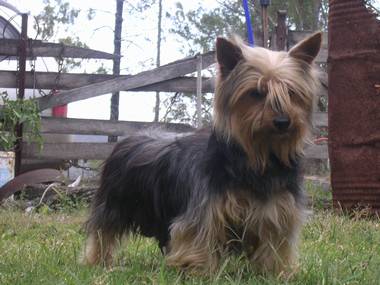 AUST CH JEMAREN CAPTIVATION
ANGEL(CH JEMAREN CAPTIVATION) IS A GR CH VANITYLODGE STRYKME LUKY DAUGHTER AND FULL SISTER TO GR CH JEMAREN MISTER BO JANGLES. WITH THE SUCCESS OF ANGEL WE ADDED TO OUR FAMILY ANOTHER SILKY FROM MARIE GERMON. THIS TIME A BOY NAMED "JAKE" (CH JEMAREN LIGHT NIN JAKE). HE HAD ALOT TO LIVE UP TO AND CERTAINLY DID THAT. I NEVER HAD PLANS OF SHOWING THE SILKY'S ALL THAT MUCH BUT IT WAS EASY FOR THEM TO TAG ALONG TO SHOWS WITH US, SO WE ENTERED THEM AS WELL. ANGEL DID VERY WELL AND TITLED QUITE EASILY, WINNING CLASS IN SHOW AT THE SILKY SPECIALTY AND SEVERAL CLASS IN GROUP AWARDS. JAKE DIDN'T TRAVEL AS WELL AS ANGEL AS A YOUNGSTER SO DIDN'T DO AS MANY SHOWS BUT WHEN HE DID VENTURE OUT HE ALWAYS WON! HE WON BABY IN SHOW AT THE SILKY SPECIALTY AGAINST A HUGE ENTRY OF QUALITY BABIES AND PUPPY OF BREED AT BRISBANE ROYAL. JAKE TITLED EASILY AS AN ADULT WHEN WE STARTED SHOWING HIM AGAIN. HIS FORTE HAS BEEN IN THE OUTSTANDING QUALITY OF HIS PUPPIES. THOUGH THE BEST COMBINATION WE HAVE FOUND TO DATE HAS ALWAYS BEEN ANGEL AND JAKE. THEY CONSISTANTLY PRODUCED TOP QUALITY, OUTGOING PUPS WITH ABSOLUTELY GORGEOUS HEADS, PERFECT FRONTS AND MAGNIFICENT MOVEMENT!
OUR FAMILY OF SILKY'S CONTINUED TO GROW WHEN THE KIDS DECIDED THEY WANTED A PUP EACH TO SHOW, SO FROM ONE OF THE FINAL LITTERS WITH ANGEL AND JAKE WE KEPT CORNEAL AND BRITTANY. BOTH OF THESE STUNNERS ARE AUSTRALIAN CHAMPION TITLED AND HAVE PRODUCED SOME STUNNING PUPPIES OF THEIR OWN. THEY ARE LIKE PEAS IN A POD, BOTH HAVE THAT BEAUTIFUL HEAD AND PERFECT FRONT AND LOVELY FLOWING MOVEMENT. AND OF COURSE THAT TERRIER TENACITY!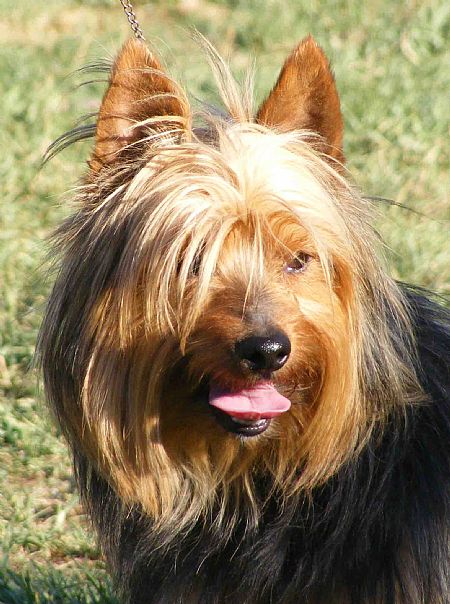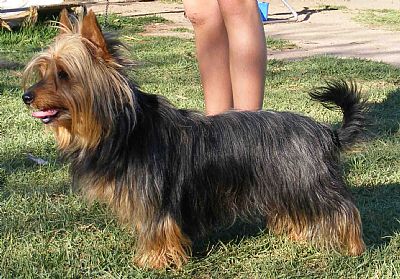 AUST CH WOLFONYX JAMAICAN RUM "CORNEAL"
WE DECIDED TO BROADEN OUR HORIZONS AND BROUGHT INTO OUR FAMILY A YOUNG PUP FROM BILL & AILEEN O'BRIEN OF WILLAME KENNELS - WILLAME GUNNA B SMOKY BLU "SMOKY", WHO WE TITLED EASILY. HE IS A STUNNING LOOKING DOG WITH EXCELLENT TEMPERMENT, THOUGH LIGHT IN COLOUR HE HAS A MAGNIFICENT COAT. WE ALSO WELCOMED HIS FULL SISTER WILLAME ANGEL N BLU "KRISSY". KRISSY HAS PRODUCED 2 OUTSTANDING LITTERS FOR US AND NOW HAS HER AUST CH TITLE. WE ALSO HAVE HER DAUGHTER FROM CORNEAL - CHAMSHEP BASIC INSTINCT "KARLY".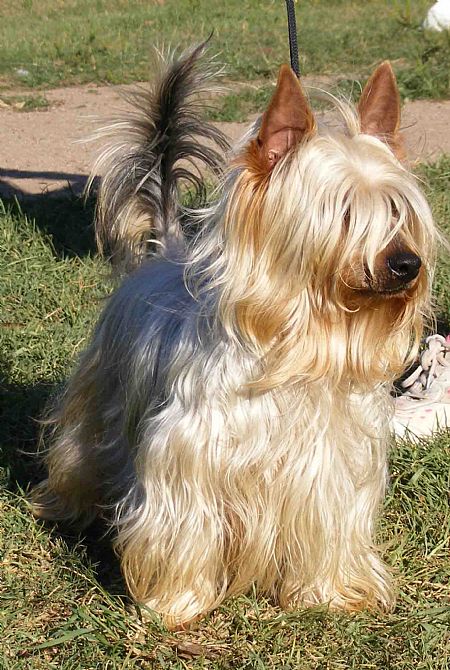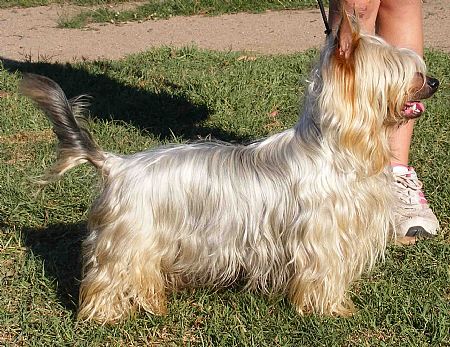 CH WILLAME GUNNA B SMOKY BLU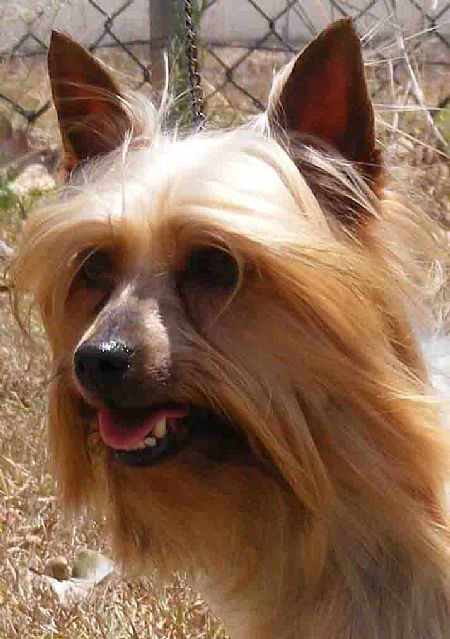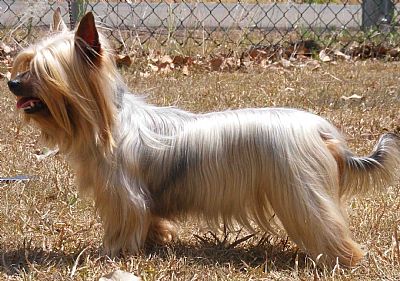 CH WILLAME ANGEL N BLU "KRISSY"

TO DIVERSIFY OUR LINES A BIT WE ALSO HAVE A PETITE GIRL FROM KINDEE KENNELS - KINDEE DIXIE CHIC "DIXIE" WHO ALSO HAS HER AUST CH TITLE AND A GIRL FROM KARLYERMAI KENNELS IN WA - KARLYERMAI WESTERN STYLE "MADDIE" - IS THE MAD HATTER OF THE FAMILY. SHE IS SO FULL OF HERSELF THAT YOU CAN ONLY LAUGH AT HER ANTICS. SHE HAS ONLY HAD LIMITED SHOWING AT THIS STAGE BUT WILL BE BACK IN THE RING SOON WITH HER BEST FRIEND "ROXY" - WOLFONYX ROXANNE - FROM ANGEL'S LAST LITTER WITH SMOKY.
WE HAVE ALSO JUST RECENTLY BEEN FORTUNATE TO OBTAIN A NEW STUD DOG THAT WE WILL BE ABLE TO USE WITH ALL OUR GIRLS. HE COMES FROM SOME EXCELLENT "OLD" LINES WITH DOGS THAT CARRY MAGNIFICENT COAT AND CORRECT COLOUR. HE IS SETTLING IN WELL AND MAKING HIMSELF RIGHT AT HOME - USUALLY TRYING TO LAY ON TOP OF THE KEYBOARD AS I TRY TO TYPE. "ROCKY" CAME TO US ALREADY AUST CH TITLED & A BEST IN GROUP WINNER. WE PLAN ON GIVING HIM A RUN AROUND THE SHOW RING SOON! HE IS AUST CH BEDAFAREAL AYERS ROCK.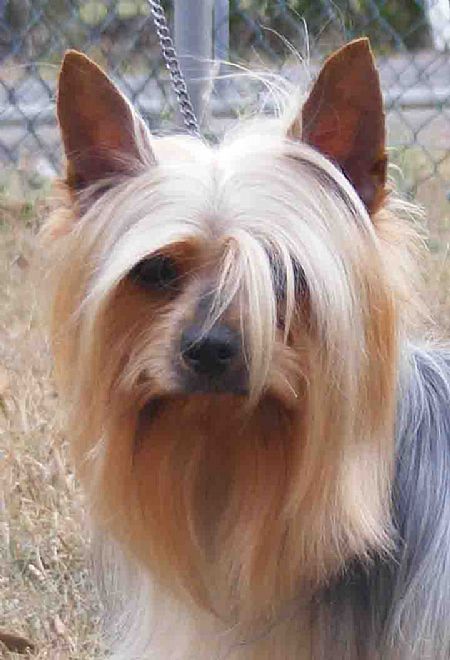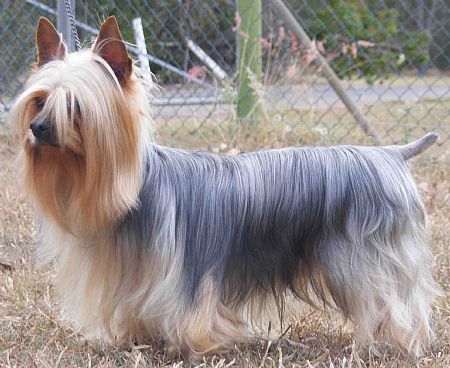 AUST CH BEDAFAREAL AYERS ROCK "ROCKY" (JUST WAIT TIL THE COAT GROWS BACK!!!)

2009 WAS A GREAT YEAR WITH TITLES BEING GAINED ON SOME OF OUR SILKY'S AND KRISSY BACK IN THE SHOW RING TO FINISH OFF HER POINTS TOWARDS HER TITLE. OUR YOUNGSTERS HAVE ONLY HAD LIMITED SHOWING THIS YEAR DUE TO OUR OTHER COMMITMENTS BUT WE DO PLAN ON HAVING THEM BACK IN THE RING SOON. THEY HAVE ALSO WON SOME CLASS IN GROUP AWARDS.

OUR PUPPIES HAVE PROVEN VERY POPULAR AND WE HAVE BEEN EXTREMELY HAPPY WITH THE QUALITY THAT OUR DOGS CONSISTANTLY PRODUCE.
I WOULD LIKE TO THANK THE BREEDERS THAT HAVE SO GENEROUSLY AND OPENLY GIVEN BREED INFORMATION AND HELPED ME TO LEARN ABOUT THESE FANTASTIC "LITTLE" DOGS THAT HAVE THE HEART OF A LION! IT IS OFTEN VERY DIFFICULT WHEN YOU START IN A NEW BREED TO FIND OUT ABOUT THE LINES YOU HAVE CHOSEN - THE GOOD, THE BAD AND THE UGLY! SO TO HAVE BREEDERS THAT ARE WILLING TO DISCUSS BREED / LINE RELATED ISSUES NO HOLDS BARRED IS WONDERFUL AND CAN ONLY SERVE TO IMPROVE THE BREED AS A WHOLE, ESPECIALLY NOW WHEN BREED NUMBERS ARE DOWN AND MANY OF THE LONG TERM BREEDERS ARE EITHER NO LONGER WITH US OR NO LONGER BREEDING. THANK YOU MARIE GERMON OF JEMAREN KENNELS AND BILL & AILEEN O'BRIEN OF WILLAME KENNELS. IT IS CERTAINLY GREAT TO HAVE SUCH ENTHUSIASTIC MENTORS.
SADLY OUR GREAT FRIEND AND MENTOR MARIE GERMON PASSED AWAY SEPTEMBER 2011. SHE WILL BE GREATLY MISSED BY ALL WHO KNEW AND LOVED HER. IT HAS BEEN OUR PLEASURE TO TAKE ON HER 2 YOUNG DOGS TO CONTINUE SHOWING AND FULFILL HER BREEDING PLANS. JAYKE AND MUFFY WILL JOIN OUR SHOW TEAM FOR THE END OF 2011 AND 2012.

*****************************************​
​OUR SILKIES ARE NOW BRED UNDER THE JOINT PREFIX OF SILKYCHARM. THIS IS A JOINT VENTURE BETWEEN MUM AND DAUGHTER.
​ALEESHA HAS TAKEN OVER MOST OF THE SHOWING WITH THE SILKIES SO TO ENCOURAGE HER CONTINUED LOVE AND ENJOYMENT OF THE DOG WORLD SHE IS NOW PARTNERED WITH THE BREEDING OF THESE WONDERFUL DOGS!
​YOU CAN FOLLOW ALEESHA WITH HER SHOW RESULTS AND PHOTO ALBUMS OF THE PUPPIES ON OUR FACEBOOK PAGE - SILKYCHARM AUSTRALIAN SILKIES TERRIERS
​**************************************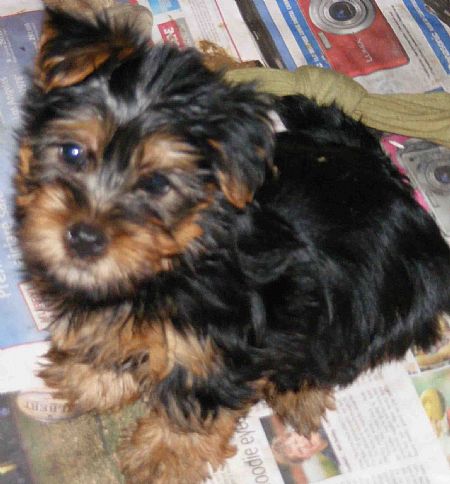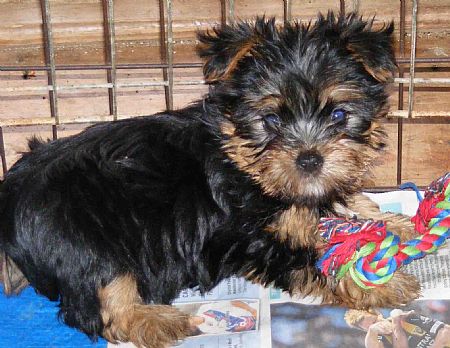 ALL OUR FURKIDS HAVE THE MOST WONDERFUL, OUTGOING, HAPPY PERSONALITIES AND PUPPIES ARE ALL HOME RAISED (IN OUR LOUNGEROOM) SPEND LOTS OF TIME WITH OUR CHILDREN, INVESTIGATING OUR CAT (MUCH TO HER DISMAY!) AND PLAYING IN THEIR OUTSIDE PEN WHEN THEY ARE OLD ENOUGH. GOOD TEMPERAMENT IS SOMETHING WE PRIDE OURSELVES ON WITH OUR PUPPIES AND ALL REPORTS FROM OUR NEW PUPPY OWNERS ARE EXCELLENT!
ALL OUR PUPPIES ARE REGULARLY WORMED, HEARTWORMED, VACCINATED WITH C6 (INCLUDES CORONA VIRUS), VET CHECKED, MICROCHIPPED AND COMES WITH AN INFO FOLDER, PUPPY PACK WITH FOOD & TOY AND PEDIGREE PAPERS. ALL PET PUPPIES SOLD TO NON ANKC MEMBERS WILL RECEIVE LIMITED REGISTER PAPERS.
*********************************************************************************************************


STUD DOGS -
OUR MALES ARE AVAILABLE TO APPROVED BITCHES. ALL DOGS ARE PROVEN PRODUCERS OF QUALITY PUPS.
VISITING GIRLS ARE WELL CARED FOR IN OUR HOME, MUST BE ANKC REGISTERED AND OWNED BY ANKC MEMBERS, WORMED, HEARTWORMED, VACCINATED AND FLEA / TICK TREATED. WE WILL CARE FOR YOUR GIRL AS IF OUR OWN DURING HER VISIT HERE.
WE DO NOT ALLOW OUR BOYS TO BREED WITH UNREGISTERED GIRLS OR FOR PEOPLE THAT AREN'T REGISTERED BREEDERS (SO PLEASE DON'T ASK US!)
OUR BOYS AVAILABLE =
AUST CH BEDAFAREAL AYERS ROCK "ROCKY"
AUST CH WILLAME GUNNA B SMOKY BLU "SMOKY"
AUST CH CHAMSHEP ONA LUCKY STRYK"JAYKE"
AUST CH CHAMSHEP POWER N GLORY "HENRY"